WELCOME  TO  NATURAL  BALANCE  ACUPUNCTURE  CLINIC
NATURAL  BALANCE  ACUPUNCTURE  CLINIC  HAS  MOVED   FROM   ENNIS  TO  MILTOWN  MALBAY, CO. CLARE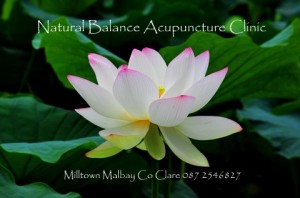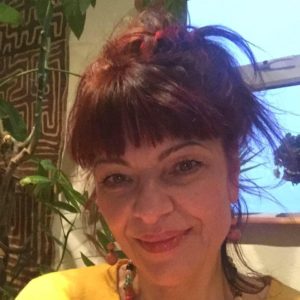 I am very happy to announce that the move of our Acupuncture Clinic from Ennis to Miltown Malbay has been successful and welcomed by many of you. We created a tranquil space for your treatments, beside enjoying the spectacular sea view, you may rest after your treatment in our lounge enjoying refreshments of your choice. 
We have improved our general clinic structure which will allow you, the patient, to avail of more flexible and generous appointment times. 
We provide ample free parking space for your convenience. 
We facilitate appointments 6 days per week from 10am-8pm.
We look forward to treat our many patients during the coming year and are pleased to confirm that our fees will not rise this year as the result of the clinic relocation. 
Location

: Natural Balance Acupuncture Clinic is less than 1 km from the centre of Milltown Malbay, overlooking the Atlantic Ocean.
Directions

: From the centre of Milltown Malbay, travel towards the Catholic Church, continue passed the church for 500 meters , you will take the left of the Y-junction and Natural Balance Acupuncture Clinic is the second house on your right.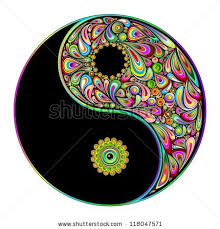 ALL  ABOUT  ACUPUNCTURE  &   CHINESE MEDICINE
Traditional Chinese Medicine 
has its origin in ancient Taoist philosophy which views a person as an energy system in which body and mind are unified, each influencing and balancing each other. Chinese Medicine emphasises a holistic approach that treats the whole body and is effective for physical, psychological and emotional conditions.
Acupuncture, along with herbal therapy and nutrition provide key elements to wellness.
I believe that health is a manifestation of balance, both within the body itself and between the body and the external environment. When the body is internally balanced and in harmony with the external environment, energy flows smoothly throughout to nourish all organs and tissues. By adjusting and stimulating the flow of energy or Qi through Acupuncture, we stimulate the body's natural healing ability to maintain health and protect against disease.
NATURAL  BALANCE  ACUPUNCTURE
CLINIC
  is  dedicated to  providing the  highest  quality  Acupuncture and patient care. The Clinic is a reflection of our commitment to achieving optimal health and vitality by aiding the full balanced expression of your being.
By browsing through the relevant topics, you may find a lot of helpful information.  
You may be interested what our clinic looks like, click Gallery. Click Testimonials to read feedbacks from our patients.
For any further questions, please feel free to ring us. We welcome YOUR interest. 
At the end of this page you will find a link with scroll menu to our FaceBook page.
I am approved and registered with Health Insurances VHI, HIBERNIAN AVIVA, LAYA, GLO and HSA  and many other insurances for Out-Patient insurance purpose.
NATURAL   BALANCE  

ACUPUNCTURE  CLINIC

 
  MILTOWN  MALBAY , 

CO. CLARE , TEL  087 2546827